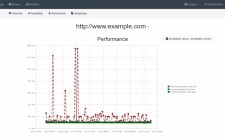 TSplus is proud to deliver the upgraded version of its easiest and most accurate monitoring add-on: Server Genius 3.1! Officially available to download for free, this new release delivers a host of features that will greatly benefit RDS Administrators.
PRAGUE, March 26, 2018 (Newswire.com) - Since its first release in May 2017, Server Genius has been the "must-have" tool for TSplus and RDS Administrators seeking clear and reliable reporting for their Servers' environments.
Today, Server Genius reveals an upgraded version that offers far more than that: IT Administrators of all SMB types will be delighted to discover how powerful this add-on is for IT Management.
Server Genius is a monitoring tool designed for installation on TSplus Servers that gathers essential data and facts to help Administrators prevent any upcoming issues concerning bandwidth, memory usage, licensing or user behavior during Remote Sessions.
The best feature of Server Genius is its ability to send automatic and customizable alerts in case of events that present risks. These alerts can be sent in real time by email, or set to pop up to notify the Administrator without delay. This is the perfect solution for detecting and troubleshooting problems on time and avoiding user complaints. Plus, the web interface gives unlimited access to all data – even on mobile and tablets!
And now, this amazing tool is providing Administrators the ability to monitor websites.
Server Genius 3.1 Monitors and Detects Website Failure
If a website shuts down for any reason, such as overloaded bandwidth or an expired domain name, it can cause a real economic crisis for a business. As for e-commerce companies, websites are the first source of revenue, and every hour with a website failure can lead to hundreds of lost customers.
The TSplus Team is proud to reveal Server Genius' new features and developments:
Server Genius offers the best solution: it gives Administrators the ability to monitor websites and track performance data, website health, availability and response times. It integrates detailed graphics showing web page loading times, as well as overall performance by day, week and month.
This means that from the same interface, Administrators can check up on the operation of all their servers and websites at a glance. If a problem occurs, the website in question will flash in red on the main Dashboard, warning the Administrator in real time. It is the best tool available to avoid costly surprises for businesses.
Plus, this new version includes multilingual support for English, French, and German, with more languages being added in the upcoming months.
Download Server Genius Now: https://dl-files.com/Setup-ServerGenius.exe​
And get a trial version for free!
The Server Genius 3.1 Essentials license provides monitoring for a server AND a website.
About TSplus Software:
TSplus International worked over a decade to build the best Citrix alternative and its team is at the top of its game. TSplus has developed worldwide class solutions to web-enable any Windows application. TSplus offers the most advanced solutions for Cloud Computing, Web Portal, and Application Publishing services. Their global solutions range from multinational to SMBs. From HR to Finance or IT, see how quickly you can web enable instantly your Windows apps for collaborating, connecting, and increasing productivity. For additional information, visit http://terminalserviceplus.com or send an e-mail to floriane.mer@terminalserviceplus.com.
Source: Terminal Service Plus
Share: