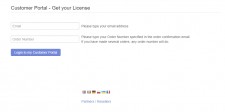 The team at TSplus is excited to present its latest innovation - the new dedicated License Management Portal -- a personal client space where all information about licenses and support contracts can be found and managed. Another step toward more efficient customer relations and streamlined support.
PRAGUE, December 6, 2019 (Newswire.com) - Beginning December 2019, every newly purchased license from terminalserviceplus.com or tsplus.net will include access to the TSplus Customer Portal, where the customer can consult a series of tables (see screenshots):
Licenses: shows the list of registered licenses for each product with the type of edition, number of users and date of purchasing. It's also easy to check if the license includes a subscription to support and update services.
Support: shows the list of support contracts purchased for each product, with the type of edition, number of users, date of purchase and duration of support agreement. Customers can immediately see when they need to renew their support subscription.
Details: specifies the business name and address of the customer
Contact: specifies the name of the person to contact
Orders: lists all orders by date with purchase price
Convenient and comprehensive, the online platform simplifies license management. It's also a great way to keep client information updated. This information can be crucial for fast and efficient support.
Getting Access - It's easy: as soon as a license is purchased from any TSplus store, a confirmation email is automatically sent to the customer with the reference number(s) of the order(s) and a link to the portal. All the customer needs for login is to confirm his/her personal email address and enter the order number (see screenshot).
From there, customers are able to perform several actions, such as license activation and license file generation. Moving progressively to self-service processes is designed to make customer self-determination easier and faster. Basic license management can now be handled at any hour without worrying about time-zones or support operation hours. The portal will soon offer online payment for upgrading licenses or renewing support directly from the customer space.
Partners and resellers also have their own space. By clicking the Partner Portal at the bottom of the page and entering their personal login and password, they can have direct access to their customer base and easily handle licensing, rehosting, etc. with total autonomy. 
TSplus and its Security companion tools can be purchased from these two stores: tsplus.net/store.php and terminalserviceplus.com/store.php.
Or TSplus trial is available for free for 15 days.
Source: Terminalserviceplus.com
Share: