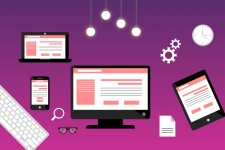 For customers who haven't seen it yet, the store at www.tsplus.net has received a facelift, thanks to a new partnership with Paddle. Using the Paddle e-commerce platform, TSplus has streamlined the purchase process and improved the purchase experience. More big changes are coming. Read on for more information, and keep an eye on www.tsplus.net.
PRAGUE, November 13, 2019 (Newswire.com) - www.tsplus.net has been around since the beginning of TSplus. The website has been updated, refreshed, fixed and improved many times since then, and for 10 years it has served well. 
For the past two years, TSplus has undergone a fundamental reorganization. Beginning with the new UI, introduced in version 12, and continuing on through a series of brand realignments and streamlining of the purchase process, TSplus aims to increase brand awareness and affirm its place as a real market player in the Remote Desktop Industry.
The first step was to redesign the application itself and release a whole new professional and easy-to-manage UI, Version 12, in January 2019. The success was immediate.
More recently, the powerful Security companion tool RDS-Knight has seen its name changed to "TSplus Advanced Security". The rebranding will increase consistency in the TSplus product line and create a stronger brand identity.
For the same reason, Alexandre Bokor, International Sales Director at TSplus, has decided to invest in a new e-shop. With the store built with Paddle, visitors who wish to purchase TSplus Mobile Web edition, TSplus Advanced Security or TSplus 2FA will not have to leave the website to do so. One click on the selected product and a pop-up will open on their screen to display information about the solution and an option to pay directly for one, two or three years of support service and benefit from progressive savings on larger purchases. The new TSplus.net store also suggests related products to be combined with the customer's choice for an optimized Remote Desktop experience. 
In line with this strategy, the Marketing Team at TSplus is currently working in cooperation with the web design agency Aurone, building a brand-new version of the tsplus.net website. A new, easier-to-navigate sitemap is coming, as well as a more user-friendly, more modern experience on both mobile devices and PCs.
Everyone at TSplus is very excited to deliver the new showcase soon. In the meantime, the new store is already available: visit it and purchase TSplus Remote Desktop now at tsplus.net.
Stay tuned for further news. Subscribe to the TSplus email list.
Source: TSplus
Share: